A-Wall 400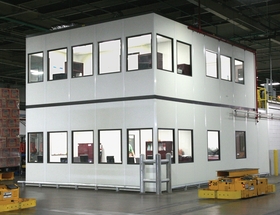 Structural Channel Studs Support up to 17,000 Pounds
Structural support for the upper level is concealed using color coordinated channel studs and steel reinforced corners.
A-WALL Panels Support up to 6,000 Pounds Vertical Load
Exclusive, panel design is similar to that of conventional construction and available with vinyl, FRP, aluminum, steel, Melamine or unfinished panel surfaces, suitable for custom painting on-site. See samples.
Unlimited Wiring Capability
Exclusive design allows hidden wiring in any panel, at any location using standard boxes and devices.
Meets All Major Building Codes
Exceeds all national standards governing load and deflection.
Utilize Wasted Overhead Space
Requires less than 18' of clear height.
Clear Spans up to 20'
Custom building configurations of unlimited size available as required.
Unsurpassed Quality
A-WALL interior building components carry a 10 year guarantee.
A-WALL 400 is a two-story building system that improves plant surveillance and takes advantage of wasted, overhead space. A safer building system, A-WALL 400 was designed using stringent safety factors and thoroughly tested at a leading, Midwest university.
Building assembly is fast, using lightweight, galvanized steel floor joists and simple hanger bracket assemblies. The second story floor is constructed of 3/4" tongue and groove premium plywood, ready for field applied tile or carpet. Unlike conventional construction using fabricated bar joists, all components are in-stock for quick shipment.
---
Photos
Click an image to view the gallery.