A-Wall 300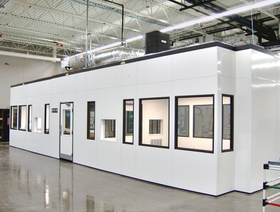 Simple I-Stud Panel Connectors
Panels install quickly without fasteners using color coordinated I-Studs.
Excellent Sound Control
Full wall thickness at panel connections and corners keep sound out… no hollow wiring posts.
Unlimited Wiring Capability
Exclusive design allows hidden wiring in any panel, at any location using standard boxes and devices.
Standard Ceilings Up to 11'- 6"
Custom buildings available with higher ceilings as required.
Mix or Match Six Durable Panel Finishes
Vinyl, FRP, aluminum, steel, Melamine or unfinished panel surfaces, suitable for custom painting on-site. See samples.
Unsurpassed Quality
A-WALL interior building components carry a 10 year guarantee.
A-WALL 300 is the most versatile building system available today. I-Studs located at the panel connections significantly reduce installation time and allow panel stacking for custom building heights. The I-Studs are electrostatically painted to coordinate with the panel finish. A full wall thickness at panel connections and corners insures consistent sound and temperature control as well as creating a uniform fire barrier for your building.
---
Photos
Click an image to view the gallery.