A-Wall 200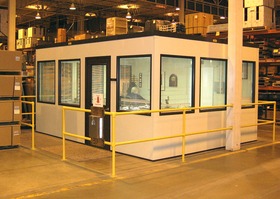 Concealed Framing Members
Buildings look less "demountable" using hidden, friction-fit steel studs to connect the panels.
Excellent Sound Control
Full wall thickness at panel connections and corners keep sound out… no hollow wiring posts.
Unlimited Wiring Capability
Exclusive design allows hidden wiring in any panel, at any location using standard boxes and devices.
Interior Ceiling Heights Up to 8'- 6"
Building sizes and configurations are virtually unlimited.
Vinyl or Paintable Panel Surfaces
Durable, vinyl panel surfaces or paint panels to desired corporate color scheme. (See samples.)
Unsurpassed Quality
A-WALL interior building components carry a 10 year guarantee.
A-WALL 200 offers all the benefits of a modular building, without the modular appearance! Fine line seams at panel intersections give it a monolithic look, similar to that of conventional construction.
Rugged, 6 mil. vinyl panel surfaces will withstand the abuse of an industrial environment and clean easily with most spray detergents. For a custom look and significant savings, unfinished panels are also available for field painting to corporate color schemes. Baked enamel finished connecting components resist corrosive environments and are factory cut to size for fast, field assembly.
---
Photos
Click an image to view the gallery.