Low Profile Carton Flow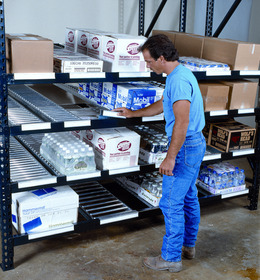 Ideal for full case picking. Roller track features a drop-in design which fits into any pallet rack structure nesting between the beams. This maintains the integrity of the rack structure while maximizing the space available between levels for product storage. Simply adjust beams for pitch and product clearance and add roller track to create flow. Since the track and product are protected within the rack system it is well suited for order picking operations utilizing fork trucks and storage above.
Superior Flow and Durability
Full width roller advantage and durable construction can support loads up to 50lbs per linear foot to handle stacking of products maximizing space utilization. The full carton support eliminates hang-ups and ensures product flows freely to the pick point generating all the benefits of carton flow.
Flexibility
Attaches to pallet rack beams utilizing full width hangers. The hangers are available for all pallet rack beams. A hangerless option is also available for certain beam types.
For split case picking adjustable pick trays or add-on trays can be added to the front of the rack structure with low profile carton flow to increase pick access and rates. The trays provide tilted product presentation to improve the ergonomics of the pick. Low-Profile knuckle track is another split case picking option providing a 20 degree angle to improve product visibility and access to the pick.
Low-Profile applications are designed to fit your operations needs and requirements. For carton flow systems 10 feet or longer, we can utilize a heavier duty frame or splice tracks together. Roller track widths, length and roller centers are tailored to fit your product movement and mix.
---
Photos
Click an image to view the gallery.