High Profile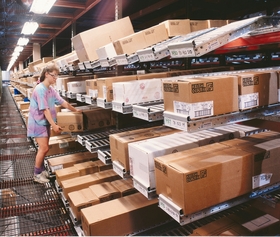 The high profile design delivers all the benefits of full width roller advantage. High Profile Track sits on top of pallet rack beams. This allows roller track lengths to extend beyond the pallet rack structure increasing linear space (40% to 66%) to maximize product storage per SKU.
The track extends past the pallet rack structure and has the option to angle down (knuckle) to allow for easy "each pick" or "split case pick" applications.
Flexibility and Increased Storage
High Profile track can overhang the front and/or the back of the pallet rack structure to create a straight or contoured pick face profile to meet your order picking requirements. Straight pick face (flush) design is recommended for full case pick applications. Contoured or layback design is ideal for each pick carton flow applications. Layback design creates a stepped effect to optimize product visibility and access maximizing pick rates and the ergonomics of the pick. High Profile roller track sections are easily spliced together to create longer carton flow runs.
High Profile roller track is attached to the pallet rack beams by our patented retainer angle and lock arm. The retainer angle runs the full width of the front and rear pallet rack beams featuring a finger design allowing track placement anywhere along the carton flow system. The lock arm secures the roller track to the rear beam and is adjustable front to back on one inch centers. This full adjustability provides complete flexibility to slot and reprofile the roller track to match your product and order picking requirements.
High Profile roller track is also available in a knuckle design.
Since High Profile Track sections extend beyond the pallet rack structure it is not recommended for order picking operations where fork truck or heavy machinery travel in the aisles.
---
Photos
Click an image to view the gallery.