Rack Repair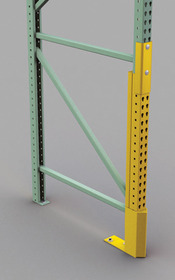 Returns front post to it's near original condition with the addition of the patent pending Smac Kit® Bulldog to protect the lower 6" to 12" of the post from impact and twisting.*
Accommodates most beam levels above 12".
Repair kit reuses existing factory bracing or accepts new bracing when needed.
Front post is reinforced with a backing channel for additional strength.
Manufactured with minimum of 12 gauge steel.
Uses 2, 3/4" anchors to minimize twist and to increase impact of the front post.
The Advantage repair kit is best used when accommodating multiple beam levels above 12" *
Available in welded and bolted styles.
---
Photos
Click an image to view the gallery.