Storage Wall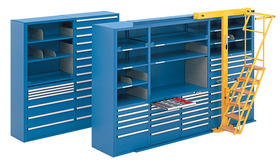 You won't find a more efficient or versatile way to add storage and organization to your operation. With the Lista Storage Wall system, the biggest and smallest items can be stored near one another in a logical, easily accessible manner. Unlike conventional industrial shelving, not an inch of space is wasted.
Infinite configuration: combine drawers, shelves and roll-out trays for the ideal item storage and retrieval solution to your specific application; easily reconfigurable for future flexibility
Custom shelving and partitioning: custom design each section of the system to match the size of the items you're storing
Total vertical storage: 6 standard heights of up to 10' let you maximize the use of available ceiling height for more space-efficient storage
Multi-unit installation: several Storage Wall systems can be arranged as multi-story installations with mezzanines for even greater vertical storage and item access
Variable door configurations: a variety of door options including sliding, hinged and vertical tambour doors, plus locking systems provide maximum protection of stored items
---
Photos
Click an image to view the gallery.