Modular Cabinets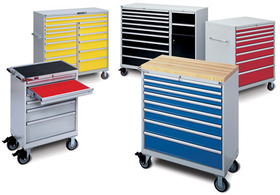 Lista offers a variety of modular drawer storage cabinets that perfectly suit a wide range of industries, environments and applications. Lista cabinets allow maximum use of cubic space for the highest density storage. Cabinet housings allow an almost infinite variety of drawer height configurations.
Scalable enough to adapt to future requirements, they are ideal for high-density storage of parts, tools and items of virtually any size and type. They also provide maximum weight-bearing capacity, tailored drawer organization, and productivity enhancing ergonomic item handling and access.
Unique drawer construction: guide track supports, and front and rear panels welded to the drawer bottom provide full dimensional stability
Exclusive drawer suspension system: no one else can match our exclusive suspension system, featuring quiet Polyoxymethylene (POM) bearings, combining strength, hardness, dimensional stability, fatigue resistance, low wear and low friction
Full drawer extension: drawers slide out 100% even with a full load, allowing complete use of the furthest corners and easy access to all contents
Two drawer weight capacities: cabinets are available with 440lb. (200kg) and/or 165 lb. (75kg) full-extension suspension, depending on the drawer footprint
One-drawer-at-a-time safety system: Patented PrevenTip® interlock system prevents tipping by locking remaining drawers when one is extended, providing optimal safety
Full-height sidewalls: 6 different full sidewall heights provide maximum use of cubic storage volume, eliminating wasted space
Hinged drawer handle covers: unique handle cover has hinged plastic cover that easily opens and closes to allow labels to be added and changed, while protecting labels from handling, tears and dirt; drawers can be labeled with free, unique Lista Script software
Customizable drawer layouts: partitioning slots on all four sides allow flexible subdivision for better item organization and faster retrieval
Convenient drawer dividers: angled top edges allow fast, accurate identification of compartment contents and accommodate Lista Script labels, as well as most bar code labels
Flush handles: drawer handles are flush with cabinet housing when closed so nothing protrudes, improving safety and appearance
Variety of locking systems: secure, safe storage
Secure cabinet placement: anchor cabinets directly to the floor or bolt to adjacent units for stable, secure positioning with no shifting
---
Photos
Click an image to view the gallery.