Push Back Rack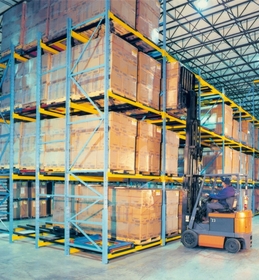 A push back rack system fills the storage cube with product, not aisles. Instead of single pallet-deep selective racks, a push back rack system lets you store pallets 2 to 5 deep while retaining easy access to a variety of different SKUs. Push back rack concept pallets are placed by forklift on nested carts riding on inclined rails. Each pallet is then pushed back by subsequent pallet loading, exposing the next cart. When removing product, the forklift takes out the front pallet, allowing the pallets on carts behind it to roll gently to the front of the rack. The nested carts make placement and retrieval easy.
Better use of warehouse space - up to 90% more product storage than selective rack systems
Store a variety of SKUs on different levels of lanes for easy product access
Interlocking carts help prevent dangerous jamming and costly product damage
Increased selectivity - up to 400% more selectivity than drive-in racks
High storage density coupled with selectivity for faster pick rates
Color coded carts for easy visual inventory
Standard carts offer a large target for loading and unloading - custom cart designs are available for weak pallet supports, non-standard pallets or other special pallets and containers.
LIFO inventory control
---
Photos
Click an image to view the gallery.