High Density Wire Shelving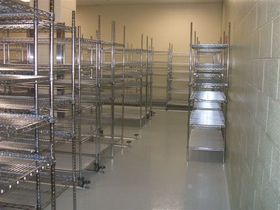 High Density Storage - Overhead Track System with Polymer ShelvingDetails Metro Top-Track high density movable aisle system increases the storage capacity of a given area by 30 - 40%! The system allows more storage units to fit in a defined space. A movable, open aisle allows full access to each shelving unit eliminating hard to reach or "dead" spaces.
Easy Access: The overhead track system provides an unobstructed walking area within the system.
Clean Design: Guide tracks are overhead enabling easy routine cleaning of floors. MetroMax i and MetroMax Q shelf frames, removable polymer shelf mats, and posts have smooth surfaces and built-in Microban antimicrobial product protection to inhibit the growth of bacteria, mold, mildew, and fungus that cause odors and product degradation.
Two interchangeable shelving and post options:
MetroMax i shelves and posts have a lifelong performance. Polymer and stainless steel materials are incredibly strong and are backed by a lifetime warranty against corrosion.
MetroMax Q shelves and posts are constructed of durable epoxy coated steel. Removable polymer shelf mats withstand daily abuse.
Smooth surfaces and polymer shelf mats protect sensitive packaged items from tears or damage.
Durable construction is especially suited for wet environments.
---
Photos
Click an image to view the gallery.