Hanel Rotomat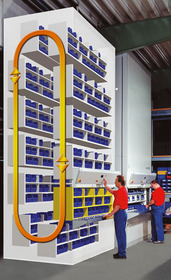 The Hänel Rotomat® principle 'Vertical carousel technology' – simply brilliant.
The principle is simple. The applications are brilliant!
The compact design of the Hänel Rotomat® enables up to 60% more storage area to be created on a minimal footprint by making use of the available room height.
The operating principle
The Hänel Rotomat® creates an enormous amount of storage space on a small footprint. It works on the Ferris wheel principle, i.e. the archives come to the operator, not the operator to the archives.
The structural design
Self-supporting steel plate casing, comparable to the cellular structure used in the aircraft industry. Lockable, smooth-action sliding doors. Environmentally friendly powder coating, as well as impact-resistant and shock-proof stove enamel finishes. There are five attractive colors to choose from. Customized finishes are possible.
The drive system
Most Hänel Rotomat® industrial carousels are powered by two 208 or 480-V three-phase motors. Pole-switching three-phase motors are used as standard, enabling gentle but powerful acceleration and braking even under different load conditions.
The intelligent Hänel control systems
Powerful Hänel microprocessor control units offer the possibility of hooking up to computers and other peripheral devices, giving you an optimal overview at all times.
---
Photos
Click an image to view the gallery.